Happy Summer and best wishes!

2007 Martha's Vineyard Vineyard Vacation Rental, call 508-696-0056
Available dates in July 2007 for $2000.
Calendar is here.

Welcome to our summer home rental on East Chop, Oak Bluffs, Martha's Vineyard, USA. The house is a large Colonial style home in the East Chop Highlands. While the house does not have water views in summertime, the shores of Vineyard sound are only 450 yards away to the West. Bell Buoy 5 is clearly audible in waves of 2 feet, and there are two public beaches within a mile of the property. A fully equipped kitchen, dining room, 2 full baths, an outdoor shower, 4 bedrooms, and a sandroom with washer-dryer should make your stay on the Island convenient and relaxing. Within walking distance to town and miles of beautiful beaches, surrounded by flower beds and the scrub oaks of East Chop, this home easily sleeps 8-12 comfortably. Use the buttons above to view the house. For specific info regarding deposits, policies, etc. visit the Rates page.


Renters: we do not provide linens, please check our Bedrooms page for specifics on bed sizes. You can also rent all sorts of items and get them delivered, too. Many links to Vineyard services are here.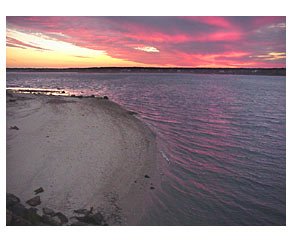 Sunset over Sengiekontacket Pond between
Oak Bluffs and Edgartown (2 miles from the house)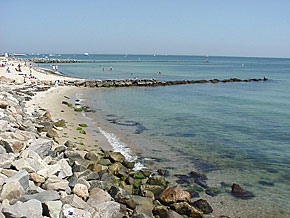 Eastville, Jetty, Inkwell, Town Beaches, and downtown Oak Bluffs are all within 1 mile of the house.