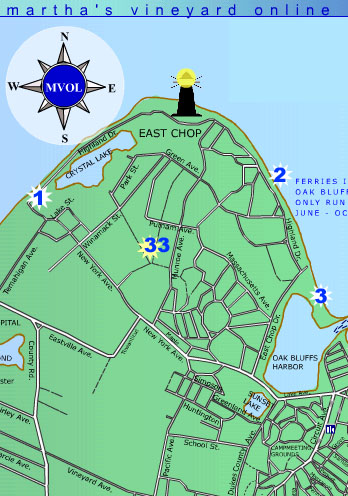 There are two public beaches on East Chop: Eastville Beach (not on the map but to the west near the OB-VH drawbridge, .75 mile from house), and Footpath to the Jetty Beach (#3 on map, .5 mile from house), near the entrance to Oak Bluffs Harbor and East Chop Beach Club. There's a small beach near the jetty available for swimming or fishing (#2), but there is no parking. Best sunset walk spot is #1 on the map. There are dozens of public beaches over the 26x12 mile Vineyard. In Oak Bluffs they include Lagoon Beach, Town Beach, the Inkwell, Sengiekontacket, Jos. Silvia State Beach, Little Bridge, Big Bridge, and Beach Wall.

The house is within walking distance (1 mile) of the OB ferries, with Vineyard Haven 3 miles away, Edgartown and the MV Airport approx. 6.

You cannot see the water during Summer from the house, although it is physically 1/4 mile from Vineyard Sound.

The house is spacious, unlike a cottage. It is a full Colonial, with flowered gardens. There is no air conditioning, but each bedroom has ceiling fans aided by Atlantic breezes. While there are two indoor full baths, we recommend the outdoor shower -- you'll enjoy that under a starry sky!